STARLING HINSON HUTT (1894-1987)

INFO
HUSBAND
WIFE
PERSON.
BIRTH.
DEATH.
Starling Hinson Hutt, I
Nov. 3, 1894, Waverly, OH
Oct. 12, 1987, Columbus, OH
Elizabeth E. B. Wooten
Feb. 17, 1898
Nov. 18, 1985, Columbus, OH
MARRIAGE
June 19, 1926
PARENTS
Austin & Margaret Hutt
CHILDREN:


Austin Hutt (1928 - )


Starling Atwell Hutt (Jan. 16, 1930 - Mar. 12, 1993)


Joseph Hollis Hutt (Nov. 16, 1931 - Apr. 12, 1995)


John Bryan Hutt (1938 - )
BIOGRAPHY:
From the Polk's city director of Columbus, Starling Hutt first is listed in Columbus in 1928, living at 22 N. Warren, occupied as a travel representative. In 1929 he is listed as a branch manager for Columbus Citizen. More info from other city directories will be forthcoming. Apparently Starling suffered from Alzheimer's in his later years.
Starling's son, Austin, had made hand-written updates to the family tree compiled by Catherine Hutt (Starling's sister):
Starling Atwell Hutt married Barbara ___ who died September 24, 1980. Three children are listed:
Joseph Hollis Hutt had a child, Julie, born in the early 1960s. She graduated Summa Cum Laude in Chemistry but went back to gain a Doctor of Veterinary Medicine degree in Animal Husbandry.
John Bryan Hutt has listed a first wife, Carol and second, Marlene. Three children, Carol, Chip and Eugene are listed but not aligned with the wives (it is assumed that the child Carol is from the first wife).
A search of the Social Security Death index showed what appears to be the deaths of Starling Atwell, March 12, 1993 in Columbus, Ohio and Joseph Hollis Hutt, April 12, 1995, also in Columbus, Ohio.

According to son Austin, two of his brothers (Joseph Hollis was the only one mentioned by name) were teachers. Joseph was the only one mentioned by name. He had a Masters and PhD in Education and taught in Columbus. His career ended unfortunately when he attempted to break up a fight between students and was sucker punched and decided to retire from teaching.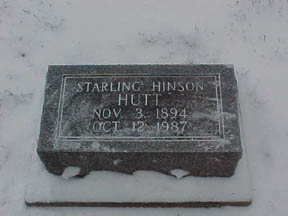 Starling Hinson Hutt's marker,
Evergreen Cemetery, Waverly, Ohio

NOTES:

THIS UPDATE: November 20, 2000
Text revisions

LAST UPDATE: October 10, 2000
City Directory info

Text in this color is in the process of being verified and/or cited

GO TO THE MASTER INDEX OF NAMES